Zipdeal Delivery Systems Ebook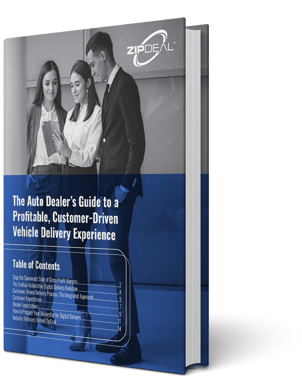 Tired of banging your head against the process execution rock?
As seen in Automotive News! Find out how to streamline and monetize the gap between customer "Yes" and the F& I office.
Salespeople have the opportunity to consistently expose customers to ancillary revenue streams that have existed for decades – such as accessory sales and protection products. Yet, sales remain stubbornly low. Just one example is aftermarket accessories. New vehicle franchised dealers capture only about 5 percent of this $40 billion business. Why?
To find out more download a free copy of the eBook, "The Auto Dealer's Guide to a Profitable, Customer-Driven Vehicle Delivery Experience."
Download ZipDeal's eBook to be first in your market to the new finish line.